TOA F1000WTWP
TOA F1000WTWP
15W 100V LINE/WIDE DISPERSION
WHITE WEATHER PROOF PA SPEAKER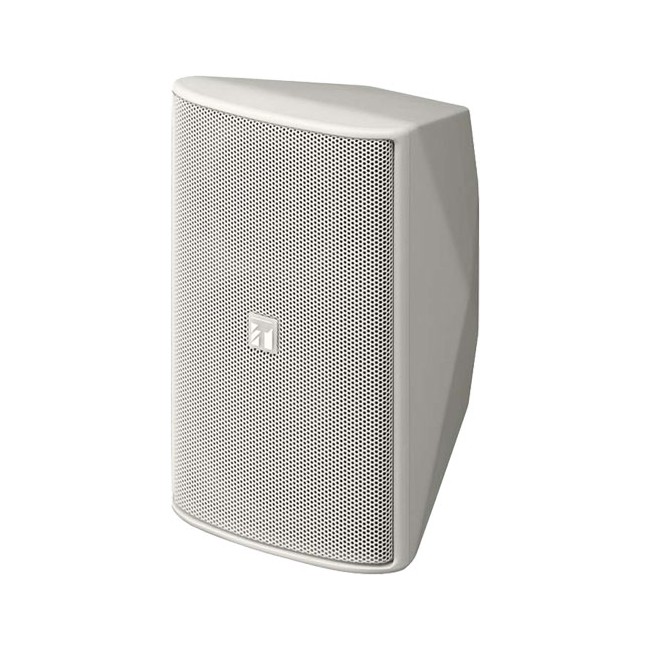 F SERIES WIDE-DISPERSION SPEAKER SYSTEM – Compact High Performance And Unmatched Installation Versatility – TOA
The new F-1000 and F-2000 Series speaker systems are designed to provide highquality sound and reliable performance for restaurants, retail and audio/visual applications.
Features include two-way bass-reflex design, high impact polystyrene enclosure with a 4", 5″ or 8" low frequency driver and dome tweeter.
For challenging acoustic environments, users can easily reduce the high frequency dispersion of F-2000 modelsby simply installing an included horn adapter.
Model options include 100V transformer or low impedance, black or white enclosures and indoor or weather-resistant versions. All models include a versatilewall/ceiling-mount bracket for easy installation.
All F-1000 and F-2000 Series models are backed with a five year warranty.
* Note: For outdoor installation, it is recommended that they are installed under roofs, eaves, or in other locations not directly exposed to rain or snow.
FEATURES:
The latest addition to TOA's acclaimed speaker line, the new F-2000 andF-1000 Series of compact, high efficiency two-way speakersachieve higher performance levels for wide range frequencyresponse and power handling.
Designed to be extremely versatile in order to meet different installation and application requirements, the new F-2000 and F-1000 Series are ideal solutions that solve increasing needs for adaptable sound.
They are available in black or white and high or low impedance versions
Available as low impedance (F1000B/F1000W) or 100 volt line (F1000BT/F1000WT) versions
90 degree x 90degree dispersion Octagon high-frequency Horn ensures an enhanced sound coverage area and a more even, balanced tone.
Available in an IP-X4, weather resistant version – 100 volt line only (F1000BTWP black or F1000WTWP white)
All speaker models are paintable.
Low impedance models have high and low frequency filter and protection circuitry.
Included brackets allow a wide choice of installations on walls and ceilings
Optional brackets meet an even wider variety of installation demands, including a cluster bracket
Stylish and highly rigid casing design for attractive installation with clearer sound reproduction.
Power Handling
Low Impedance 90 watts continuous program
100 Volt Line 15 watts
Sensitivity: 87dB, 1W, 1m
APPLICATIONS:
Audio/Visual
Airports
Bars/Lounges/Nightclubs
Convention Centers
Corporate Boardrooms
Hotels/Hospitality
Houses of Worship
Museums
Offices
Patios
Residential Spaces
Restaurants
Retail Stores
Schools
Theaters
Theme Parks
SPECIFICATIONS:
F-1000 Series:
LF Driver: 4" cone woofer
HF Driver: Balanced-dome tweeter
Crossover: 5kHz
Power Handling:

90W (cont. PGM)
30W (pink noise)
15W (100V transformer version)

Sensitivity (1W, 1m): 87dB SPL
Dispersion: 90° H x 90° V
Available Models:
F-1000B (indoor, black, 8 ohm)
F-1000W (indoor, white, 8 ohm)
F-1000BT (indoor, black, 100V)
F-1000WT (white, 100V)
F-1000BTWP (outdoor, black, 100V)
F-1000WTWP (outdoor, white, 100V)
F-2000 Series
LF Driver: 8" cone woofer
HF Driver: 1" hard-dome tweeter
Crossover: 2.5kHz
Power Handling:

180W (cont. PGM)
60W (pink noise)
60W (100V transformer version)

Sensitivity (1W, 1m): 93dB SPL
Dispersion (adjustable):

110° H x 100 ° V
80° H x 80° V
Available Models:
F-2000B (indoor, black, 8 ohm)
F-2000W (indoor, white, 8 ohm)
F-2000BT (indoor, black, 100V)
F-2000WT (indoor, white, 100V)
F-2000BTWP (outdoor, black, 100V)
F-2000WTWP (outdoor, white, 100V)