TOA ER1215S
TOA ER1215S
15W HANDGRIP MEGAPHONE WITH
SIREN TOA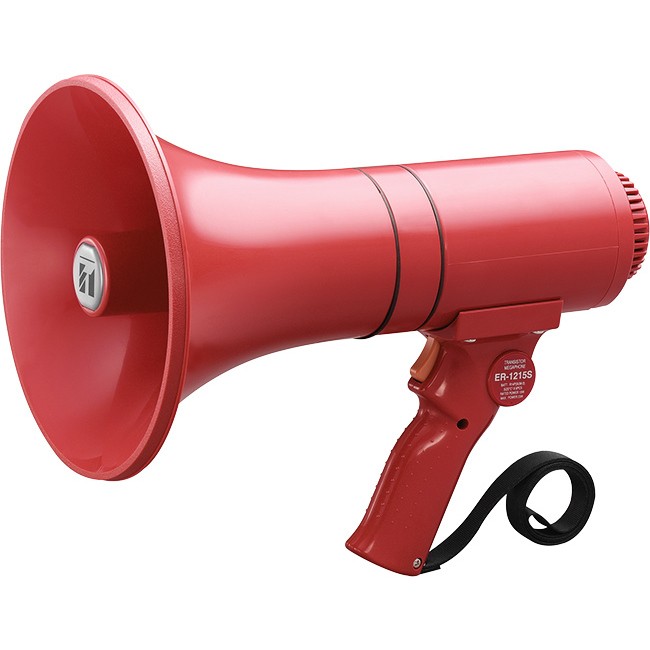 ER-1215S Hand Grip Type Megaphone With Siren
The ER-1215S Is A Hand Grip Type, 15 W Output Megaphone With A Siren. Pressing The Siren Button Sounds A Siren Continuously In Emergency Conditions. Handle And Microphone With Anti-Bacteria Treatment Improve Hygiene And Safety During Use. The Newly Developed Polyimide Diaphragm Is Employed To Ensure High Sound Quality.
Specs:
Power Source
R14P (C) × 6 (9 V DC)
Rated Output
15 W
Maximum Output
23 W
Signal Sound
Siren (sounds at 5 seconds intervals)
Battery Life
Voice: Approx. 14 hours (JEITA)*
Siren: Approx. 20 minutes (JEITA)*
Audible Range
Voice: Approx. 315 m (JEITA)*
Siren: Approx. 500 m (JEITA)*
Diaphragm
Polyimide film (voice coil, bobbin)
Anti-bacteria Treatment
Mouth and handle
Operating Temperature
-10℃ to +40℃
Finish
Horn, mouth, battery case and handle: ABS resin, red
Strap: Nylon, black
Dimensions
210 (W) × 291 (H) × 346 (D) mm
Weight
1.2 kg (without batteries)
Note: Batteries are optional.
*JEITA: Japan electronics and information technology industries association. (EIAJ TT-4501A)