TOA PM660U
TOA PM660U
DESKTOP MICROPHONE
UNWIRED / NO PLUG – TOA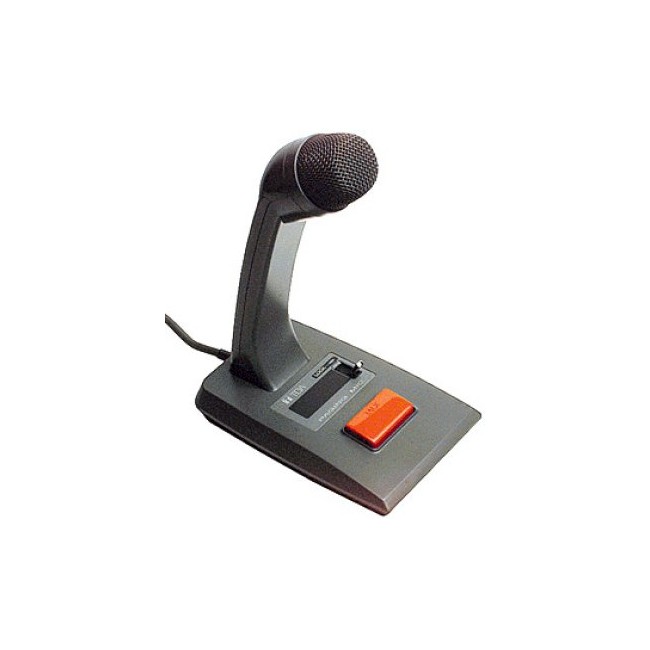 Desktop Paging Microphone
Desktop type dynamic microphone with cardioid polar pattern.
Short-off press to talk switch with open OFF type extra switch contact.
Low handling noise.
600 Ω balanced output impedance.
2.5m 4-conductor (included twin-core shielded) cablewithout plug.
Can be remotely operated with additional components such as priority and transmitting / receiving relays
Specification
Type Desktop moving coil microphone.
Polar Pattern Cardioid (Unidirectional).
Output Impedance at 1kHz 600 O, balanced.
Rated Sensitivity -58dB (1kHz, 0dB=1V/Pa)
Frequency Response 100 ~ 10,000Hz
Cable 2 core shielded plus 2 core cable.
Cable Length 2.5m
Terminal of Cable None.
Talk Switch Push to talk type (short-off circuit with lock lever).
Remote Switch Leaf spring contact (interlocked with talk switch).
Dimensions (W x H x D) 100 x 215 x 150mm
Weight 440g
Finish Head; Zinc plated steel wire, baked painting, Grey / Body; ABS resin, Grey.