TOA A1712
TOA A1712
120W MIC MIXER & PA AMPLIFIER
6X MIC, 3X AUX INPUTS – TOA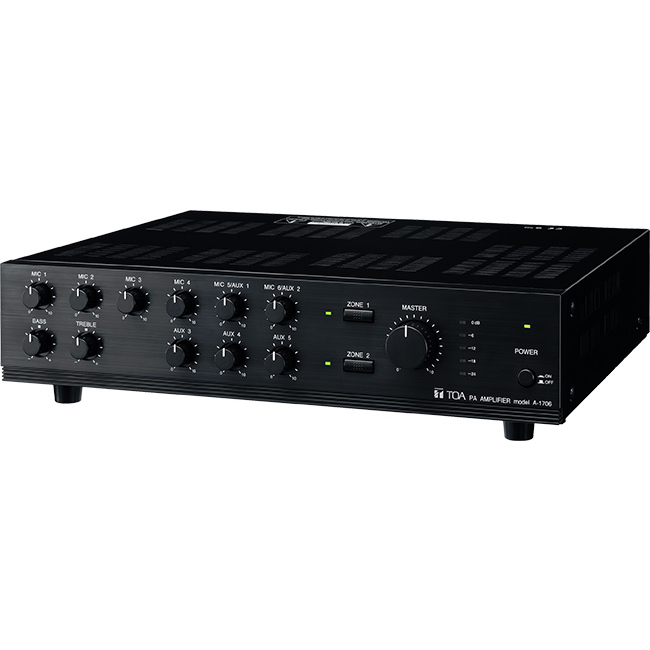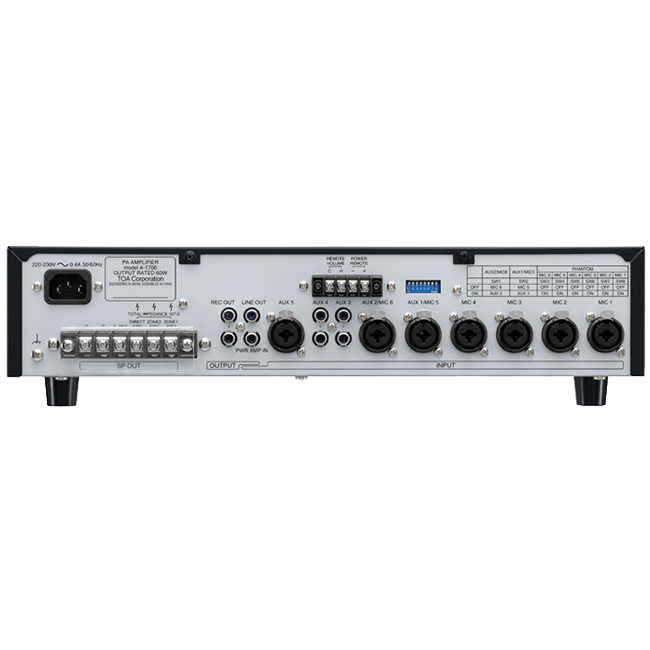 Multiple Inputs / Outputs
Featuring multiple mic inputs as well as three auxiliary inputs,the A-1700 Series of amplifiers have three different power ratings to select from depending on the venue. These units offer efficient mixing of as many as 9 differentinputs. If more aux inputs are required, mic inputs 5 and 6 can be switched over to accept line level inputs.
2 Zone Capability
Each A-1700 Series amplifier has 2 speaker output zones which can be independently selected or used together for enhanced PA applications.
Phantom Power Provided
The A-1700 Series of amplifier provide phantom power to all connected microphones. Phantom power can switched on or off as needed. The microphone inputs feature a balanced configuration with XLR connectors, allowing long cable runs without any problems.
Equalization
Each amplifier allows easy tonal adjustment of all output signals with bass and treble controls.
Connecting External
Equipment For more sophisticated equalization such as minimizing feedback, a parametric equalizer or other gearcan be patched in before the power amplification stage. Other equipment such as a delay unit can also be connected if required. Alternately, to extend sound coverage, and additional power is needed to power other speakers, the line out terminal can be used to send the mix output to another power amplifier.
Remote Control Capability
A-1700 Series amplifiers will respond to remote control signals, allowing remote volume adjustments and remote power on/off.
Record Output
Each A-1700 Series amplifier back panel includes a record output for connecting an external recorder to archive or back up broadcasts.
Spec
Power Source
AC mains 50/60Hz
Rated Output
A-1706: 60W
A-1712: 120W
A-1724: 240W
Power Consumption
A-1706: 150W (rated output), 60W (EN60065)
A-1712: 258W (rated output), 105W (EN60065)
A-1724: 532W (rated output), 220W (EN60065)
Frequency Response
50 – 20,000Hz (¡Þ3dB)
Input
MIC 1 – 6: -60dB*, 600Ω, electronically-balanced, combined type of XLR-3-31 equivalent and phone jack
AUX 1 – 2: -20dB*, 600Ω, electronically-balanced, combined type of XLR-3-31 equivalent and phone jack (Either MIC 5 or AUX 1, and either MIC 6 or AUX 2 selectable)
AUX 3 – 4: -20dB*, 10kΩ, unbalanced, RCA pin jack
AUX 5: -20dB*, 10kΩ, unbalanced, combined typeof XLR-3-31 equivalent and phone jack
PWR AMP IN: 0dB*, 600Ω, unbalanced, RCA pin jack (An equalizer or other signal processor connectable between LINE OUT and PWR AMP IN terminals)
Output
A-1706:REC: 0dB*, 600Ω, unbalanced, RCA pin jack
LINE: 0dB*, 600Ω, unbalanced, RCA pin jack
SPEAKER SELECTOR: 2 zone, high impedance (100V line/167Ω), individual selector key, M4 screw terminal
DIRECT SPEAKER OUT: High impedance (100V line/167Ω), M4 screw terminal Low impedance (4 – 16Ω), M4 screw terminal
(Both Low and High impedance terminals cannot be used at the same time.)
A-1712: REC: 0dB*, 600Ω, unbalanced, RCA pin jack
LINE: 0dB*, 600Ω, unbalanced, RCA pin jack
SPEAKER SELECTOR: 2 zone, high impedance (100V line/83Ω), individual selector key, M4 screw terminal
DIRECT SPEAKER OUT: High impedance (100V line/83Ω), M4 screw terminal Low impedance (4 – 16Ω), M4 screw terminal
(Both Low and High impedance terminals cannot be used at the same time.)
A-1724: REC: 0dB*, 600Ω, unbalanced, RCA pin jack
LINE: 0dB*, 600Ω, unbalanced, RCA pin jack
SPEAKER SELECTOR: 2 zone, high impedance (100V line/42Ω), individual selector key, M4 screw terminal
DIRECT SPEAKER OUT: High impedance (100V line/42Ω), M4 screw terminal Low impedance (4 – 16Ω), M4 screw terminal
(Both Low and High impedance terminals cannot be used at the same time.)
Phantom Power
ON or OFF for each MIC 1 – 6 with switch setting
S/N ratio (Band Pass:
20 ? 20,000Hz)
Over 100dB (Master volume: min)
Over 76dB (Master volume: max)
Over 60dB (MIC 1 – MIC 4)
Tone Control
Bass: ¡Þ10dB at 100Hz, Treble: ¡Þ10dB at 10kHz
Control Input
REMOTE VOLUME: M3 screw terminal
POWER REMOTE: No-voltage make contact input, short-circuit: under 10mA, M3 screw terminal
Indicator
5 point LED output level meter,
Power indicator LED,
Zone indicator LED
Operating Temperature
-10°C to +40°C
Finish
Panel: ABS resin, black, hair line
Case: Steel plate, black
Dimensions (W × H × D)
420 × 107.7 × 367mm
Weight
A-1706: 9.3kg
A-1712: 12.6kg
A-1724:13.5kg
Accessory
Power cord × 1,
Terminal block cover × 1,
Terminal block cover mounting screw × 2
Option
Rack mounting bracket: MB-25B,
Volume control cover: YA-920