TOA A5012
TOA A5012
120W 4 INPUT CLASS D MIXER AMP
5 BAND EQ – HALF SIZE 1RU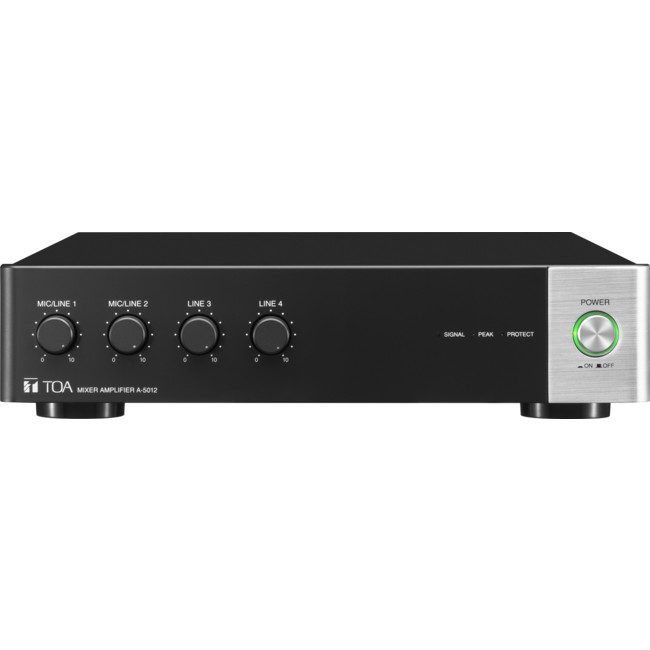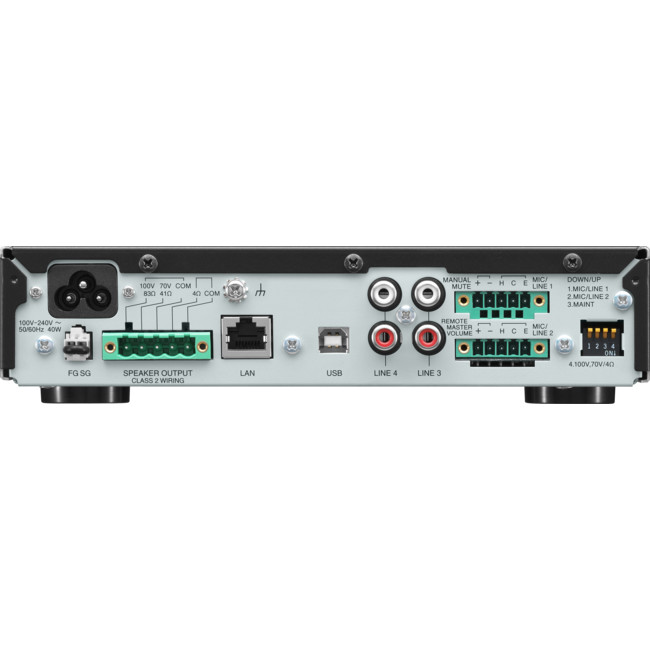 The A-5012 is a half-rack 1-unit size 120W desktop mixer power amplifier.
Inputs 1 and 2 can be set for either MIC or LINE sound sources, and its output is compatible with both high-impedance (100 V and 70 V lines) and low-impedance (4 Ω) speaker connections.
Functions can be set with a PC using the dedicated setting software.
The A-5012 is ideal for use as a mixer amplifier in smallcommercial facilities and conference rooms.
With the use of an optional rack mounting bracket, it canbe mounted in an EIA Standard equipmentrack (1 unit size)
Specifications
Power Source
100-240 V AC, 50/60 Hz
Rated Output
120 W
Power/CurrentConsumption
207 W (rated output), 39 W (based on cULus standards)
Max. 3 A
Frequency Response
50 Hz – 20 kHz (1/8 rated output)
Distortion
1 % or less (1 kHz, rated output)
Input
INPUT 1, 2: MIC -60 dB(*1)
LINE -20 dB(*1) MIC/LINE selectable
2.2 kΩ, electronically-balanced, removable terminal block (5 pins)
INPUT 3, 4: LINE -20 dB(*1), 10 kΩ, unbalanced, RCA pin jack
Output
SPEAKER: 4 Ω, 70 V (42 Ω), 100 V (83 Ω), removable terminal block (5 pins)
Signal to Noise Ratio
MIC 1, 2: 50 dB or more
LINE 1 – 4: 70 dB or more
(A-weighted)
Function
Parametric equalizer: 5 points settable on each input and output
20 Hz – 20 kHz ±15 dB
Q: 0.267 – 69.249
Compressor: ON/OFF settable on Inputs 1 and 2 (OFF by default)
Threshold, Ratio, Attack time, Release time, and Gain are settable
independently on each input.
Control
Mute control, Remote master volume control, Power ON/OFF switch, Ground lift
LED Indicator
Power indicator, Signal indicator, Peak indicator,Protect indicator
Network I/F
100BASE-TX
Operating Temperature
0 °C to +40 °C
Operating Humidity
35 % to 80 % RH (no condensation)
Finish
Panel: PS resin, black
Case: Surface-treated steel plate, black, paint
Dimensions
210 (W) × 52.5 (H) × 375 (D) mm (8.27× 2.07″ × 14.76″)"
Weight
3.9 kg (8.6 lb)
Accessory
CD (setting software) x 1, Large type removable terminal plug (5 pins) x 1, Small type removable terminal plug (5 pins) x 2, Plain washer (*2) x 6, Bracket mounting screw (M3 x 10) (*2) x 6, Power supply cord (2 m (6.56 ft)) x 1
Option
Half width blank panel: MB-15B-BK (for rack mounting one A-5012 unit) (*2)
Rack joint bracket: MB-15B-J (for rack mounting two A-5012 units) (*2)
Rack runner: YA-706