TOA BS103B
TOA BS1030B
30W ENCLOSED PA SPEAKER BLACK
8 OHM OR 100V LINE TOA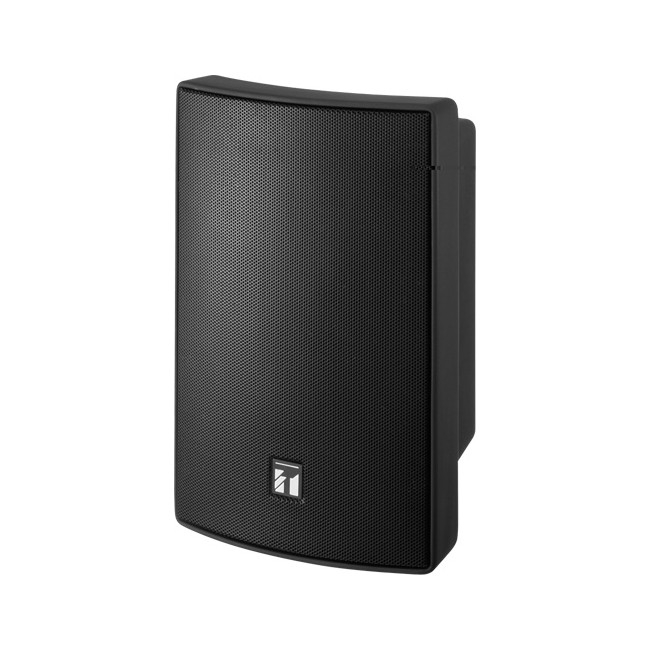 Music / Paging Speakers, Indoor/Outdoor, Two-Way, Mounting Bracket Included - TOA
THE TOA BS-1030 MUSIC/PAGING SPEAKER has exceptional sound quality and value for a wide variety of applications. Available in black and white, the versatile BS-1030 is designed for both indoor and outdoor use with a durable ABS resin enclosure and steel mesh grille.
The two-way, bass-reflex design features a 4.72" (12 cm) cone woofer, 1" (2.5 cm) dome tweeter and built-in multi-tap transformer with screwdriver-adjustable power taps. A transformer bypass setting allows direct 8-ohm operation.
Installation is fast and easy with the supplied mounting bracket or rear panel keyholes for horizontal or vertical surface-mounting.
The BS-1030 speakers are backed with a five year warranty.
TOA's BS-1030B 2-way 12cm black dynamic cone speaker has been designed for low and midrange sound output
The BS-1030B features a bass reflex enclosure, a2.5cm balanced dome tweeter for high frequency sound.
A rear-panel mounted rotary switch facilitates selection of impedance (HIGH/LOW), line voltage (70V/100V), and power input(5W, 10W, 15W, 20W, 30W), permitting fine adjustment to match intended use and type ofevent.
In addition the BS-1030 features weather-resistant construction and is available in black or white.
FEATURES:
Compact Speaker for Music and Voice Paging Distribution
Clear, Natural Sound Reproduction
TOA Quality and Reliability
Wide Variety of Indoor/Outdoor Applications
Available in Black (BS-1030B) and White (BS-1030W)
Weather-Resistant (IEC IP-X4 Rating)
Mounting Bracket Included
Horizontal or Vertical Mounting with rotatable logo badge
Durable ABS Resin UV-Resistant Paintable Enclosure
Two-Way, Bass-Reflex Design
4.72" Cone Woofer and
1" Dome Tweeter
Steel Mesh Grille
Power Handling: 90 W (Continuous Program)
Sensitivity: 90 dB SPL (1 W/1 m)
Frequency Response: 80 Hz to 20 kHz
Built-in Multi-tap Transformer (70.7/100 V)
Screwdriver-Adjustable Power Tap Settings: 5, 10, 15, 20 and 30 W
Direct 8-Ohm Mode
Five Year Warranty
APPLICATIONS:
Audio/Visual
Airports
Bars/Lounges/Nightclubs
Convention Centers
Corporate Boardrooms
Hotels/Hospitality
Houses of Worship
Museums
Offices
Patios
Residential Spaces
Restaurants
Retail Stores
Schools
Theaters
Theme Parks
SPECIFICATIONS:
Enclosure
2-way bass reflex type
Rated Input
30W
Impedance
8Ω
100V line; 330Ω (30W), 500Ω (20W), 670Ω (15W), 1kΩ (10W),
2kΩ (5W)
70V line; 170Ω (30W), 25Ω (20W), 330Ω (15W), 500Ω (10W),
1kΩ (5W)
Sensitivity
90dB (1W/1m, in anechoic chamber)
Frequency Response
80 – 20,000Hz
Speaker Components
12 cm dynamic cone-type speaker 2.5 cm balanced dome tweeter
Speaker Cable
2-core cabtyre cable (diameter 6mm)
Operating Temperature
-10ºC to +50ºC
Water Resistance
IP-X3 (installed vertically or horizontally)
Material/Finish
BS-1030B
Enclosure: ABS resin, black, paint
Grille: surface treated steel plate, black, powder coating
Bracket: surface treated steel plate, black, powder coating
BS-1030W
Enclosure: ABS resin, white, paint
Grille: surface treated steel plate, white, powdercoating
Bracket: surface treated steel plate, white, powder coating
Dimensions
196 (W) × 290 (H) × 150 (D) mm (without bracket)
Weight
2.5kg (without bracket)
Accessories
Bracket × 1, Bracket mounting screw × 2, Bracket mounting washer × 2
Options
Bracket:
BS-1030B; WCB-12, TMB-1, SP-410
BS-1030W; WCB-12W, TMB-1W, SP-410, SP-420Stand: ST-16